NovAzure's Phillip Cholerton and Jean-Jacques Jouanna were delighted to join a community of active hydrogen industry players at Brown Rudnick LLP, London's Hydrogen event on 12th July in London, co-hosted by Neil Foster and Dr Michaela Kendall.
The 10 companies that pitched to a panel of leading hydrogen investors demonstrated why the UK is a hot-bed of hydrogen innovation. NovAzure's Phillip Cholerton spoke about why hydrogen's acceleration is now at an inflection point: as a key piece of the energy mix in a world constrained by fuel shortages, energy security concerns, energy price spikes and a cost-of-living crisis.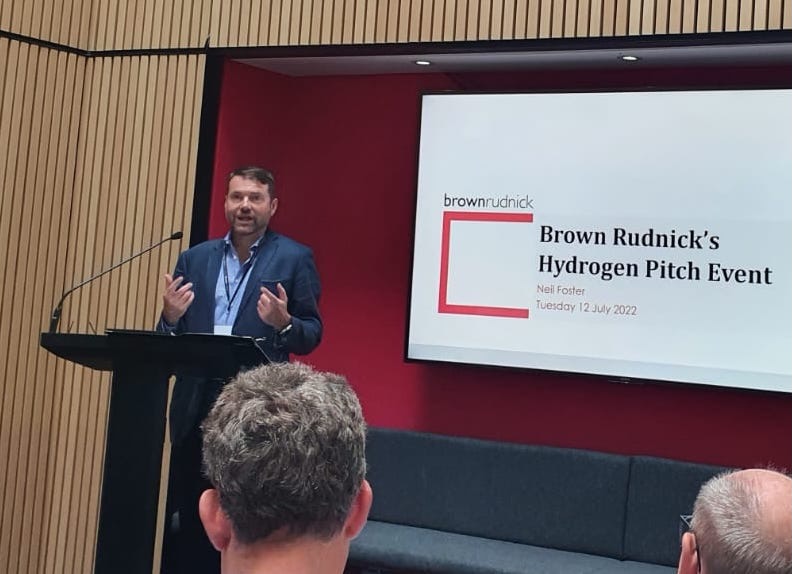 Sir John Peace, in his address, explained that the UK Midlands and Midlands Engine partnership is geared up and ready to scale the manufacture of hydrogen technologies.
NovAzure looks forward to continuing our work to help innovators, corporates and investors to commercialise, scale and achieve investment objectives. For Hydrogen, contact Phillip Cholerton at: p.cholerton@novazure.com
Many thanks to Neil Foster and the Brown Rudnick LLP, London team for another exceptionally well-orchestrated event and to Dr Michaela Kendall for her excellent co-hosting as a UK hydrogen champion.